There is one more week in the subscribing blog contest going on. If you don't know about the contest here it is:

Subscribe to this blog and leave a comment here that you subscribed. On August 31 the names of everyone who has subscribe AND left a comment will be put in a hat and I will draw out a winner. The winner will be announced on September 1. The prize is a $15 gift card for Walmart Downloads. That website is comparable to itunes. Walmart has told me that you can use it as a regular gift card if that suits your needs better. So hurry and subscribe and leave a comment so everyone will be included. It's going to be tons of fun!


___________________________________________________________________
Don't forget that there is only one week until K8 ends her Wild Monkey scrapbook give away also! Check it out.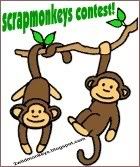 Related Posts