Alright I was just reading a post over at Simon's Money Notes about some website called Andrewtalk.com. Apparently he was is new blogger and ordered a $400 review of his new blog from John Chow and got ripped to shreds for stealing articles and such. First of all why?? There are people who do blog reviews for much cheaper if not free. Why don't you get a normal person's review before jumping to the big guns? Secondly, what is the big deal with John Chow? I have been blogging for almost a year, and apparently I'm out of it because everyone knows why John Chow is special but me. I'd like to be enlightened, so anybody who knows why John Chow is such a big deal please let me know.

I visited John Chow's website and read his review of Andrews website and it was brutal. Now anyone who has gone to elementary school knows that plagiarism is wrong, you shouldn't do it, and if you are going to use someone else's words you need to give credit where credit is due. This review was just mean, it wasn't a review at all, just a website roast. He didn't offer much help (besides the obvious take off the stolen content). I also visited Andrew's website where he has apologized and moved on. He now has some new content up and is determined to continue on. Good for him I say! Being thrashed by someone like John Chow must be awful (I can only imagine since I still don't know who he is), but I'm glad he is starting over and trying it again.

UPDATE: I just google John Chow and the funniest website I have ever seen comes up it is entitled Johncow.com. I love the use and abuse of the name! This is awesome. Totally check it out. p.s. I still have no idea who John Chow is, let me know!

Technorati tags: Andrewtalk.com, John Chow, JohnChow.com, blogging, reviews
__________________________________________________________________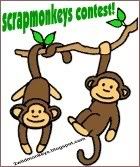 Check out k8 at the 3 Wild Monkey's and see the fun contest going on. You could win scrapbooking things!!!
Related Posts